I've been gone too long y'all. Life has been hitting me hard, but I'm starting my Spring Break and trust me, I need it. How have you been?
Make sure to check out my other recaps. I'll get the Episode 9 recap out within the next few days.
Recap
So this episode starts with Zoey at one of the biggest parties of the semester… during finals week. It's literally called "Faded for Finals." She talks about her 3-pronged plan to keep her from getting too wild tonight. She has a timer, breathalyzer, and water, claiming she'll only stay for ten minutes. Mmmhmm, we'll see about that boo.

Vivek tells Zoey to quit tripping and enjoy the party. The twins ask about Nomi and Ana. Zoey texts them and we see some pretty wild stuff. Ana and Aaron are really hooking up now. So… that's a thing.
Nomi has been hanging out with her Gender Studies professor all week. She's in her professor's car when she gets the text from Zoey. She doesn't want to leave, so she doesn't. They start making out or whatever. I'm not really supporting this teacher-student relationship but… that's none of my bidness.
Zoey resets her timer for *ten* more minutes. Vivek mentions that Doug is gonna slide by the party. Apparently, Doug and Jazz haven't talked since the IG mess went down. Vivek tells the girls about how he paid extra for a VIP section of the party.
Ten minutes turns into forty real quick, but who's counting. Ana and Aaron get to the party and Aaron breaks away to get some drinks. Ana tries playing off the Aaron thing, talking mad trash about him. She was honestly being so childish toward him that whole night.
Ana goes off to see what else is going on and Aaron breaks some bad news to Zoey. He took the Chem 101 final freshman year and tells her it was tough. She's basically screwed, so she decides to head back to the apartment to try and get some last minute studying in. While leaving, some drunk dude bumps into her and she drops her breathalyzer into the pool. Not like it makes much difference, she's faded.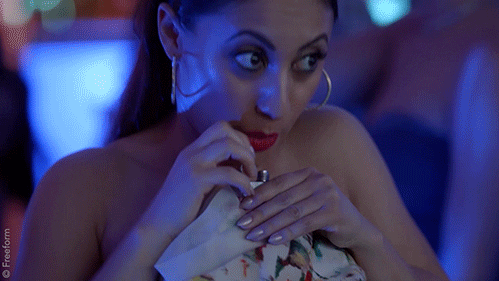 Zoey can't find her key card to get into the building, so she goes back to the party to borrow Ana's. As soon as she gets back, Sky asks Zoey to help calm Jazz down. Jazz is blasting Doug on IG Live. She's wasted but still going ham on Doug, even calling his mom out. By this point, it's already 1:33 AM. Zoey takes the phone from Jazz, which just pisses her off. Then Zoey tries to talk some sense into her and Jazz gets the message.
Zoey finally gets to Ana and gets her key card. Ana calls Aaron ugly and he gets pissed, I guess he takes his looks very seriously. Vivek is waiting on his bottle service in the so-called VIP section.
Zoey is finally back in the apartment and she opens up her book to study. Nomi gets home at the the worst possible moment. She starts spewing on about how she's deeply "in like." She convinces Zoey that she doesn't even need Chemistry, therefore she should just go out and party some more. Keep in mind, this is one of Zoey's closest friends. It's already 2 AM, but Zoey still goes.
Fast forward to Zoey's exam. While watching this I was legit so shook by the fact that Zoey had time to fix up that sleek side bun but she didn't have time to review a couple pages of that textbook. The questions are leaving Zoey stumped and she's stressed AF. The exam is worth FIFTY PERCENT OF HER CLASS GRADE! How did she just blow that ish off.
She ends up doing something she thought she'd never do. This girl is straight up cheating off the person in front of her.
Let's not forget about the rest of the group. Ana tells Aaron that she wants to tell Zoey about what's going on between them and he just agrees, so that's cool. Jazz talks to Doug about what happened last night. They end up officially breaking up and that hurt. I was really rooting for them.
Zoey's back in her room now, thinking about what she did. Ana comes in to tell her about the Aaron thing and Zoey stops her for a minute to check her email. She gets an email from her professor to meet privately about the exam. That's where we leave off, so… I'm hoping we get some answers next week.
In the last scene, Aaron's talking to Vivek about how he got scammed. Vivek gets up for a walk and finds a secret room. It turns out Vivek's VIP section was real after all and Mr. Dalvin of Jodeci is there, too.
Discussion
Luca wasn't in this week's episode and I have no issue with that. I'm tired of hearing about that relationship. Zoey's friends are back to being toxic. Nomi is such a bad influence and I'm not here for it. Also, that thing she got going on with her professor is an issue. That could get both of them in some serious trouble.
On the bright side, I'm so happy Sky got to speak up this week. Vivek getting a couple extra scenes was also great. I'm excited to see what their roles are gonna be in the next few episodes.
How did you feel about this week's episode?
What do you think will happen next week?
How do you feel about Jazz and Doug's situation?
Do you think Zoey got caught?
Why is Nomi hooking up with her professor?
Let me know your thoughts in the comments!