I posted a mini-recap for this episode on Thursday, but you already know I couldn't leave you with just that. Here's the full play by play for the latest episode of Grownish.
Recap
This episode was different. It started off with Zoey's dream/ partial recap of the night. Luca is telling her to fall back, then Aaron says some sweet words to her and leans in for a kiss. Zoey's eating a slider and her teeth start falling out. Then she wakes up and the theme song comes on.
Zoey's monologue starts off right after the theme song. She's talking about dreams and we're pulled back to six hours earlier. Aaron has put together a really nice gala for his Black Minds Matter fundraiser. Luca was expecting gospel and a spades tournament but he's pleasantly surprised by the night.
Ana and Nomi are there, even though Ana feels like she caved into going. She wants to support the cause but she doesn't want to see Aaron in the process. Nomi promises to keep the two separated. Ana's also taking a much needed break from alcohol for a while. They take pictures on the red carpet with Ana trying to pose like J-Lo.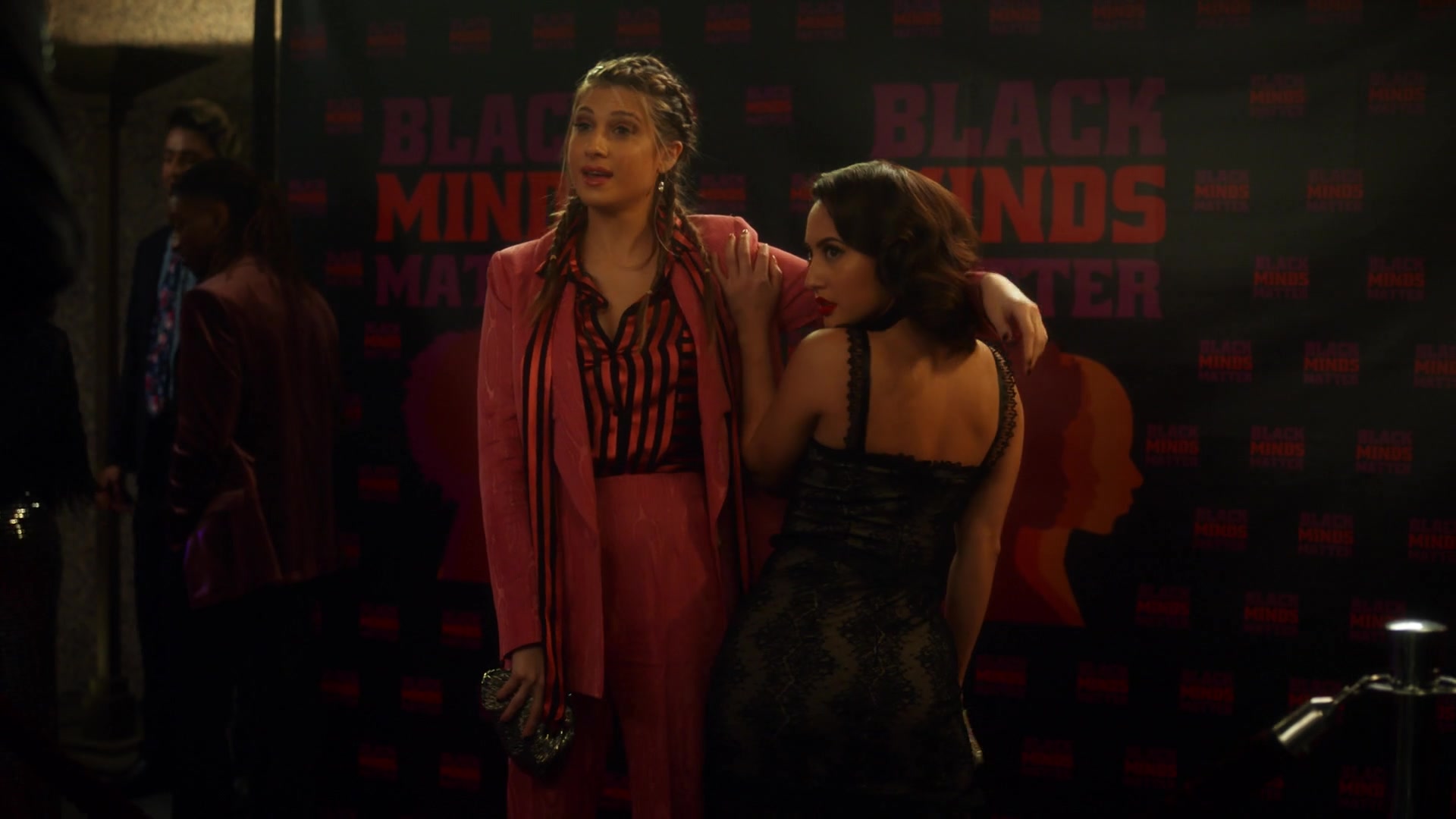 Jazz, Doug, and Sky get on the red carpet and Sky is in crutches. She got a sprain from falling at the fundie run. Jazz is being super overprotective and she won't even let the photographer hold onto Sky's crutches.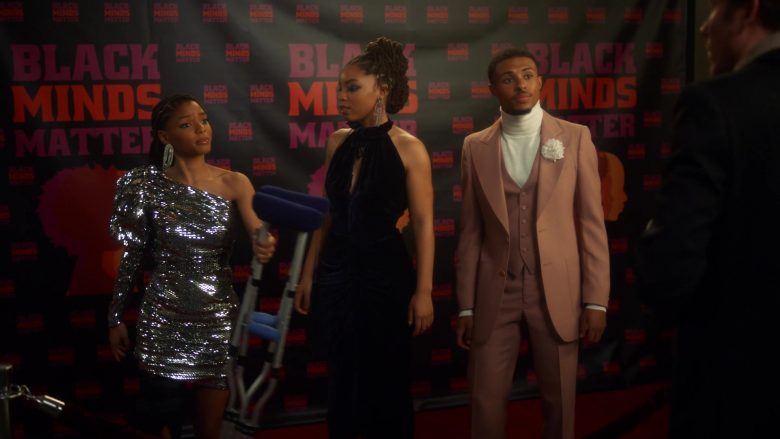 Zoey and Luca get their own pictures taken and Zoey lets Luca know that after tonight he won't just be Joey Bada$$'s biggest fan, he'll be his BFF. Luca claims that he's not a fan, he just vibes with Joey's music.
When Luca gets a chance to speak to Joey, he tries to play things off like it's not that serious. Zoey tries sparking a conversation between the two through their common love of art but Luca's not feeling it. Joey ends up walking away and Luca tells Zoey to fall back.
Zoey leaves to find some vegan sliders.
Ana tells Nomi about how unattractive people are when she's sober. Nomi spots Aaron, then thinks she might just be being racist but it turns out it is Aaron so they make their move away from the bar.
Aaron's feeling super nervous about tonight's speech. He comes up to the bartender to ask for a drink, but he doesn't want to be as drunk as he was at his cousin's wedding. Apparently, he started talking about his aunt's breast reduction during that speech.
Zoey hasn't seen the sliders or her girls so she starts looking at her phone so she can look occupied. She ends up bumping into a sculpture, but luckily Joey Bada$$ is there to catch it.
Zoey tries to bring the topic back to Luca and how he's a big fan and was super excited when Aaron got the connect. It took Aaron 97 unsolicited DMs to get Joey Bada$$ to come through but it's a cause he supports.
While she's talking about Luca's art, the topic moves to her styling and Joey offers her a job at his pop-up that's coming through in the next couple days. She wants to take it but tells him she can't. Her internal reasoning is that she doesn't want to take the opportunity away from Luca.
Zoey calls Nomi and Ana over to the photobooth so they can talk about what happened. The girls want to support her, but they think she's made the wrong decision by turning down the job.
Sky tells Jazz she'll be heading to the bathroom and Jazz tells her she and Doug can come to. Sky basically tells Jazz to back off since she's not dying and her knee isn't even broken. Sky just wanted to take her mind off of things for a night.
A waiter asks Zoey if she'd like the vegan slider on his tray, it's the last one. She's about to take a bite until she realizes that it's Luca's favorite food. She has a conversation with him about whether she should take the slider, but she's really talking about the job opportunity in code. After the convo, she decides to take the job this time.
Ana runs into Aaron and at first she's just gonna walk away, but when she sees him struggling with his speech, she gives him some great advice. Ana tells him to speak from the heart. That way, everyone will know it's genuine.
Zoey finds Joey again and tells him she'll take the offer. He asks why the change of heart and she tells him she didn't want to take the opportunity from Luca. Joey tells her it wasn't his job to begin with and that she's got it.
Aaron's speech goes really well, he doesn't even read off the note cards. He looks right at Ana as he gives it.
Sky's outside while everyone's listening to the speech and Junior walks up to her. Yes, Junior came through this episode. He brings her his grandmother Ruby's bedazzled crutches.
He tells her she won't need them because they're going to slow dance. His core is incredibly strong from the hoopnautica hula hoop class he's taking.
Doug is the one who called up Junior and Jazz is so touched by the kind act. Doug tells her that he knows when her sister is scared, Jazz is scared and he loves Jazz too much to see her scared. Jazz tells Doug she loves him back and they kiss. I'm so happy they're together.
Aaron finds Zoey to thank her for that conversation they had last episode. She tells him about the job offer and Aaron asks how Luca's taking it. Zoey admits that she hasn't told him yet and Aaron tells her that Luca will be happy for her, she just has to speak from the heart.
After the gala, Zoey and Luca are in bed together and Luca gets really excited because Joey Bada$$ started following him on IG. Zoey decides to wait until tomorrow to tell him and that's when she has that dream from the beginning of the episode. When she wakes up, Luca asks if she's okay. Zoey tells him that they need to talk.
The last scene is Aaron super excited, asking Joey Bada$$ for a picture. Joey steps into the photobooth and Doug is there waiting, also excited. The boys are real hype but Joey is not feeling it. Aaron and Doug start making a beat and Joey up and leaves.
Discussion
This was an interesting episode to say the least. There's a youtuber that does video reviews for these episodes and I feel like she summed it up really well.
Basically, she was saying that they kind of threw the Aaron thing in out of nowhere. Like I said before, I think Zoey just needs some time to be her own person. She's been chasing after these guys for too long and she needs some time to figure herself out.
I won't be hurt if her and Luca breakup. I've been waiting for it all season, especially with how they started us off.
I'm totally feeling this Sky and Junior connection. They are really cute together and I love their vibe. Junior is so sweet and he gets to Sky's soft side. They bring out the best in each other and they've only been together for a few episodes.
Jazz and Doug make me so happy when their together. They were so cute in this episode. I love the way they care about each other.
How did you feel about this week's episode?
Where was Vivek?
What do you think about Sky and Junior?
Did Aaron redeem himself?
Should Nomi be wearing cornrows after the cultural appropriation episode?
Do you think Zoey and Luca will break up?
Would you prefer Zoey with Luca or single?
Let me know in the comments, let's chat!