My Saturdays are kind of dry without the recaps, so I wanted to bless your timeline with a second installment of "Things I Want to See in Grownish Season 3."
Let me know how y'all feel about these posts in the comments and make sure you follow this blog via email on the sidebar for updates. If you're on the mobile view, you'll have to slide all the way down. Now, let's get into it.
1. More of Charlie aka Dean Telphy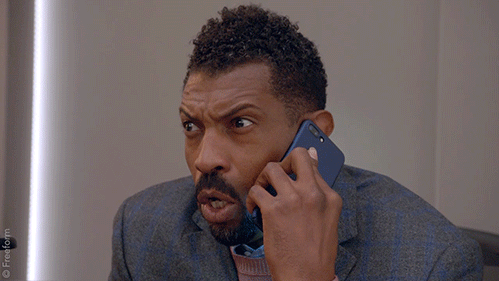 I've loved Charlie ever since we first met him on Blackish. This man is a trip. He's like every weird uncle/cousin/neighbor rolled into one. Most of the things Charlie says and does are completely outrageous in the best way. For someone who's name is second in the theme song credits, we barely saw his face in Season 2.
We never got an explanation of how he's even dean. We were just supposed to see that and be like… okay, guess he's dean now. I want that explanation. Make it make sense.
2. Aaron's Activism
Aaron's activism is part of what made me love him the moment he was introduced. It's one of the reasons I was Team Aaron the entirety of Season 1. He was always a man with a cause, and I think he lost sight of that for a while.
The Black Minds Matter gala Aaron threw at the end of Season 2 was the realest I've seen him in so long. Aaron was finally back in his element. We need that activism to make a full comeback, especially since he'll be a senior this year.
3. Discussion/Tough Topics
My favorite episodes are always the ones that talk about what needs to be talked about. The consent episode and the mental health one were my favorites of Season 2. Grownish tackling tough but relevant topics like these is what got me into the show back in Season 1.
4. Culture
I feel like we talk about black culture a lot, which I love, but we always brush over the other POC communities. Ana's Latinx culture is only mentioned when she's comparing Doug's style to her Uncle Pepe or brief mentions of her Catholic faith. By the way, we barely talked about that all season. What happened to Ana being super religious?
The cultural appropriate episode was all about black culture. I wish there had been some discussion on what culture is because it's so much more than just race.
5. Commuter Representation
Just about every show I've watched set in college fails to mention students that commute. Yes, we do exist. Not everyone has the luxury or even want to live on campus. I would love to see Grownish talking about commuting and how that affects the college experience. It would be great if they were also talking about responsibilities that students may have while in college.
Am I missing anything?
What else would you like to see in Season 3?
What's your favorite show?
Let me know in the comments, let's chat!